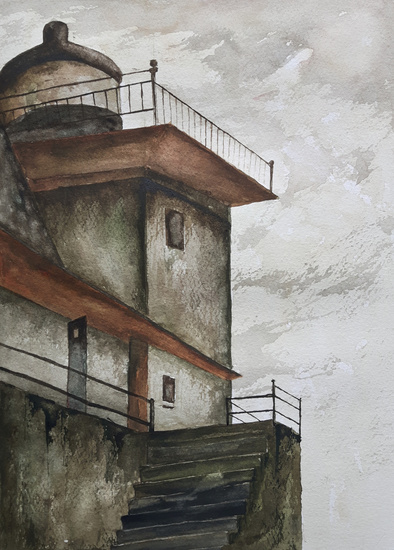 30 x 23 cm, © 2019, € 55,00
Tweedimensionaal | Schilderkunst | Aquarel
Geïnspireerd door de vuurtorens van Edward Hopper en Andrew Wyeth heb ik inmiddels zelf ook al meerdere vuurtorens gschilderd. Lang geleden enkele Bretonse (in olieverf) en in 2019 als aquarel, in de kleuren (sepia-achtig) van de farmhouses van Andrew Wyeth. Wyeth aquarelleerde Rocklands Light in 1961. Op Wikipedia is het volgende hierover te lezen: Tenants Harbor Light, also known as Southern Island Light,is a lighthouse at the mouth of Tenants Harbor, St. George, Maine, United States. It appears in paintings by Andrew Wyeth and his son Jamie Wyeth, who have owned the lighthouse since 1978. De prijs is exclusief lijst en/of passe-partout.