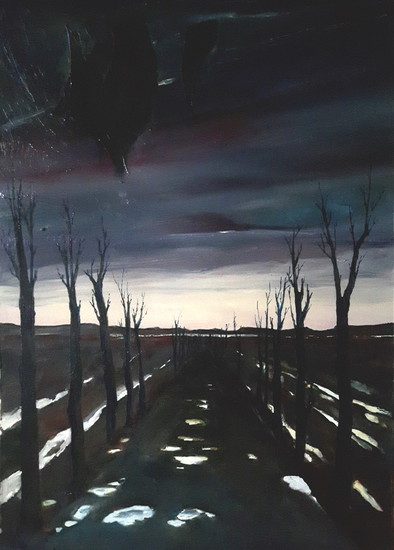 70 x 50 cm, © 2017, € 195,00
Tweedimensionaal | Schilderkunst | Olieverf | Op papier

Dit schilderij (op 300 grams papier) is evenals The Long and Windy Road geïnspireerd op het schilderij 'Een Hollandse Weg' (1880) van Anton Mauve (1838-1888). Mauve wordt gerekend tot de zogenaamde Haagse School, waartoe ook Hendrik Willem Mesdag (inderdaad, van het 'Panorama'), George Hendrik Breitner en Isaac Israëls worden gerekend. Mauve heeft zelf een korte tijd les gegeven aan de toen nog jonge Vincent van Gogh. In de lucht van dit schilderij is Japans zeewier verwerkt.
Mijn 'Road to Perdition' moet doen denken een donkere en zompige herfstdag laat in november. De vermelde verkoopprijs is exclusief lijst, c.q. passe-partout.
De vermelde prijs is zonder lijst